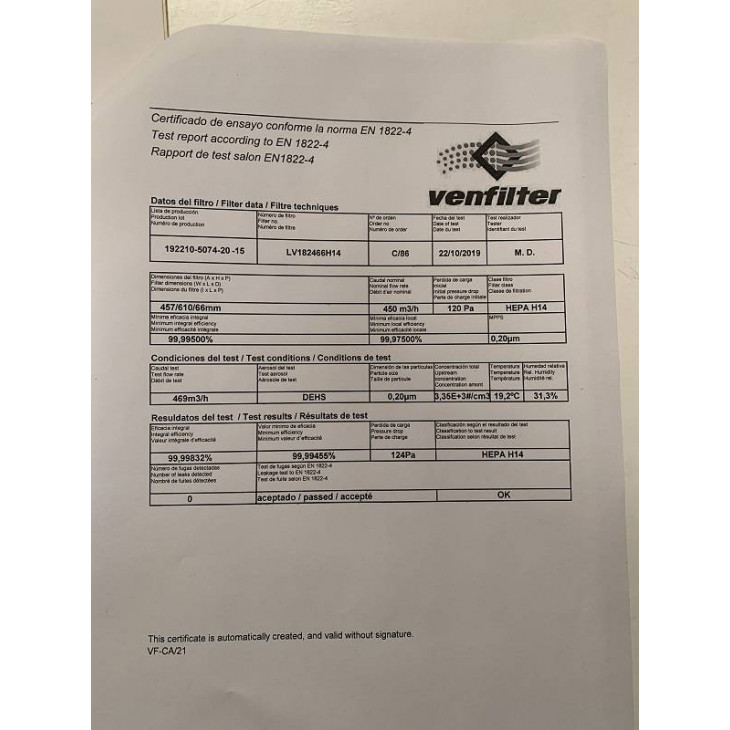 Maximize
Remove this product from my favorite's list.
Add this product to my list of favorites.
Gilson FC 203 B
Gilson FC 203 B fraction collector. Max. collection per vial 20 mL (vials of 2.8x6 cm). Collection of  8 columns at a time. Capacity for 1 rack. LCD display. Autonomous control unit with integrated keyboard. User manual.
Specifications:
It can be optionally purchased together with the Gilson Minipuls 3 peristaltic pump (click here).
Manufacturing Standards
Meets applicable safety and EMC certification standards; UL and CE certified
3-way Valves
FC 203B/204: 3-port, PTFE, 67 µL internal volume, 3.5 µL dead volume from common port to the normally closed port, up to 20 mL/min with standard or large bore needle
FC 204: 3-port, PTFE, 114 µL internal volume, 6 µL dead volume from common port to the normally closed port, up to 20 mL/min with standard or large bore needle
Communication Interface
GSIOC; Inputs for start/advance and end/home; event mark output; one programmable output for control of peripheral devices
Data Acquisition
An input channel for analog-to-digital conversion; digital data is transmitted on the GSIOC
Detector Input
±100 mV full scale
Drop Counting
Up to 9,999 drops per fraction; maximum rate: 20 drops /sec
Environmental Conditions
Indoor use
Altitude: up to 2000 m
Temperature range: 5–40°C
Air pressure: 75–105 kPa
Pollution degree: 1 or 2, in accordance with IEC 66
Humidity: Maximum relative humidity 80% for temperatures up to 31°C, decreasing linearly to 50% relative humidity at 40°C
Event Marker
100 ms pulse
Front Panel
Two-line, 24-character display on backlit LCD. Five command, HELP, YES, NO and 0–9 numeric hard keys; four soft keys
Maximum Collection Volume/Tube
FC 203B: 20 mL (28 x 60 mm scintillation vials with optional Code 24 rack)
FC 204: 32 mL (18 x 180 mm tubes or 25 mL (18 x 150 mm)
Maximum Fractions
FC 203B: 128 (12 x 75 mm tubes with optional Code 14 rack)
FC 204: Up to 768 when configured with eight 96-well, 2-mL Whatman/Polyfiltronics microplates on a Code 17 rack)
Multiple-Column Collection
Simultaneous collection from up to 8 (FC 203B) or up to 18 (FC 204) columns with installation of optional multiple column adaptor(s)
Multiple-Cycle Operation
Repetitive collection of each sample into same set of tubes or collection of each sample into different set of tubes
Number of Racks
FC 203B: Holds one rack
FC 204: Holds one Code 16 or Code 16D rack, one Code 17 rack, or up to four Code 20-Series racks (all racks must be the same code)
Operating Modes
Drop, Manual, Peak + Drop, Peak + Time, Time
Peak Detection
Adaptive-slope algorithm that applies user-specified parameters to accommodate drifting baselines, negative and asymmetrical peaks, or absolute threshold level that collects all peaks above specified mV value
Peak parameters: peak height or level, in mV and peak width at half-height, in minutes
Minimum peak height for fractionation: 0.1 mV full scale
Detector-collector delay: 0.01 minute increments
Power Requirements
Frequency: 50–60 Hz
Voltage: 100–120 or 220–240V; mains voltage fluctuations not to exceed ±10% of the nominal voltage
Current rating: 0.5A for 100–120V, or 0.25A for 220–240V
Programmable Time Units
From 0.01 to 99.99 minutes per tube with a 0.01 minute limit of resolution
Software
Via TRILUTION® LC Software
Time-Based Programming
Up to 10 collection windows and 10 drain steps in any mode
Tube Change Time
100—250 ms (FC 203B) or 100—720 ms (FC 204), center to center, depending on rack type
Dimensions (w x d x h)
FC 203B: 32.4 x 29.2 x 26.7 cm (12.8 x 11.5 x 10.5 in.)
Weight
FC 203B: 5 kg (11 lbs.)


Height

26,7 cm

Width

32,4 cm

Depth

29,2 cm

Weight

5 kg
No customer comments for the moment.
7 other products in the same category: