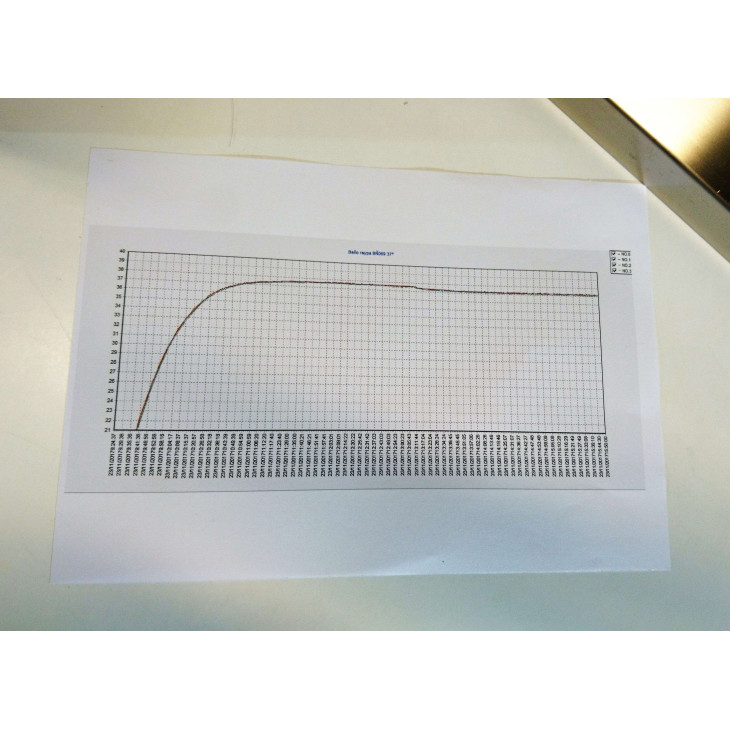 Maximize
Remove this product from my favorite's list.
Add this product to my list of favorites.
Hitachi U-1900
Hitachi U-1900 UV-Vis spectrophotometer. Range 190-1100 nm. Bandwidth 4 nm. LCD Display 12.2 cm. Cuvette with 4 position. Autonomous operation. User manual included. 
Specifications:
Optics Seya-Namioka mount monochromator, ratio beam
Wavelength range 190 to 1,100nm
Spectral bandpass 4nm
Stray light 0.05% or less (220nm for NaI, 340nm for NaNO2)
Wavelength accuracy ±0.5nm (at 656.1, 486.0nm)
Wavelength setting repeatability ±0.3nm –3 to 3 Abs
Photometric range 0 to 300%T
Conc: 0.000 to 9.999
Photometric accuracy ±0.002Abs (0 to 0.5Abs) (certified according to ±0.004Abs (0.5 to 1.0Abs) NIST SRM 930) ±0.3%T
Photometric repeatability ±0.001Abs (0 to 0.5Abs) (certified according to ±0.002Abs (0.5 to 1.0Abs) NIST SRM 930) ±0.15%T
Wavelength scan speed 10, 100, 200, 400, 800, 1,200, 2,400, 3,600nm/min
Baseline stability 0.0004Abs/h (at 500nm)
Noise level ±0.00015Abs (at 500nm)
Baseline flatness ±0.002Abs (within 200 to 950nm)
Light source WI and D2 lamps
Light source changeover Auto (at 340.0nm)
Detector Silicon photodiode
Display LCD with backlight (12.2cm)
Printer I/F Centronics interface Serial I/F RS-232C (exclusive for UV Solutions program)
Size (main unit) 380 (W) × 643 (D) × 311 (H) mm
Weight (main unit) About 27kg
Power supply 100, 115, 220, 230 or 240V, 50/60Hz
Power consumption 300VA
Height

31,1 cm

Width

38 cm

Depth

64,3 cm

Weight

35 kg
No customer comments for the moment.
7 other products in the same category: