Nexius Zoom NZ.1903-P
Stereomicroscope trinocular Nexius Zoom NZ.1903-P. Objective-zoom 0.67 to 4.5 x, magnification of 6.7 x to 45x, light incidente and transmitted 3-W LED.


SPECIFICATIONS
EYE
Pair of wide-field eyepieces HWF10x/22 mm With adjustment of ± 5 diopters built-in.
HEAD
Trinocular head with tube holder eyepieces inclined 45°.
Distance inter-pupillary adjustable between 54 and 75 mm
It has a port trinocular splitter with a beam of light (50:50)
OBJECTIVES
Objective Zoom 1:6.7, with increases of 0.67 x to 4.5 x. Field of view from 33 mm to 4.9 mm working Distance 110 mm Lens lens optional 0.5 x, 0.75 x, 1.5 x and 2.0 x. All optical components are anti-rust and treatment of layers of anti-reflection for maximum light transmission.
INCREASES
Working distance and field of view with eyepieces supplied in the standard equipment HWF10x/22 mm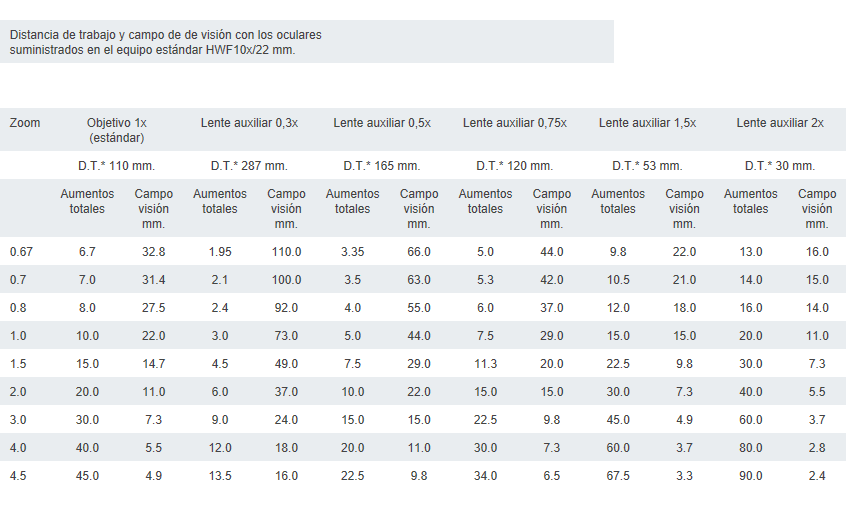 D. T.* working Distance
STAND
Flatbed large format with column (model-P) bracket and movable in height with coarse by rack and pinion system mounted on the guides, ball bearings, high-precision, dual-LED lighting system 3W, base with 2 clamps-fastening of the sample,
LIGHTING
Incident and transmitted LED 3W power internal 100-240 Vac. Both illuminators can be used simultaneously, and enable the regulation of intensity independent.
PACKAGING
Supplied with power cable, protective cover, replacement fuse and user manual. Case of polystyrene.